I know what you're thinking: "Of course she's excited about the new book — she wrote it!"
True. But the response to this book has surprised even me. Some of the team who helped me edit the book ordered it by the case when it was published so they could give a copy to everyone they love or mentor. And even though they had each read it, they couldn't wait to read it again!
People tell me how it is plugging into their hunger for something more with God that has eluded them so far. People are finding hope in They Will All Know Me that they can know God, and that knowing Him will nourish them in all the ways they have been left hungry.
Jesus doesn't just love you, He LOVES you! He wants to share life with you…. NOW! I believe He wanted this book written to give hope to hungry hearts who have been left malnourished by the current widespread model of church and Christianity, which typically teaches ABOUT God more than how to really KNOW God.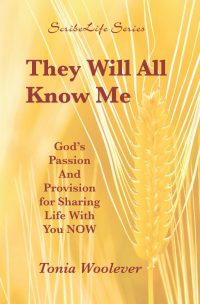 Eternal life is the prize for which Jesus suffered. As the Son of God, Jesus wanted to offer the Father the inheritance among men for which He longed. As the Son of Man, a human being like us, Jesus wanted us to have the joy of knowing the Father as He knew the Father.
In John 17:2-3 Jesus defined eternal life as knowing the Father and Jesus Christ. They Will All Know Me aims to share the full message of this new life. I wrote it with the prevailing hope that those who read it would never again be able to settle for anything less than knowing God in personal experience. In its pages you will find a robust collection of Scripture that makes the case for knowing God now. It is peppered with personal stories of how I have learned to know God so far, and how knowing Him has changed my heart and life like no other thing or person could.
They Will All Know Me focuses on knowing God as a Person, the Person behind the roles of king, father, friend and savior. I can still remember the early Christian days when I thought of God as an ethereal being far away, unknowable, unreachable, too majestic to treat as a familiar friend. But I kept reading those Scriptures, and they confronted me daily with the Person who God is, and His profound and relentless desire to share life with His creation. I eventually began to relax about the idea that God really did want to call us friend, but only after I began to see Him as a person. A person with desires, hopes, a will, a personality, a sense of humor.
While I struggled to make myself over in His image, I overlooked the fact that I was already made in His image. I crave justice because He loves justice. I need to be loved because He wants to be loved. I get angry at betrayal because He gets angry at betrayal. I feel jealousy because He feels jealousy.
These things emboldened me to go for the relationship I saw described in the Bible. Like many, I began with the faulty notion that I had to be good enough or spiritual enough or holy enough to actually receive that. The Holy Spirit quickly and persistently cured me of that notion. It is true that we should be good, spiritual and holy like our heavenly Father. What the Spirit taught me is that we can only become these things as we are mentored up close and personal. So many, like me, have gone at it backwards: trying to earn the relationship, instead of simply believing in the relationship offered, like any legitimate child does, and let Father raise me up in His values.
This shift in focus tilted the axis of my world, away from focusing on my performance, and directly into the heart of God. What a joy it is to experience God's heart in daily life.
There are oodles of great books out there, also inspired by the Spirit of the Lord. God has a target audience for every book because His passion is to get the word out to every nook and cranny of humanity. I pray this one will find its way into the hands of those for whom God inspired it.